Where it all Started
Tony Wolfe grew up in Peers Alberta and was surrounded by Fleckvieh cattle from a young age. His parents were the owners of Jack Pine Simmentals. Click on the "Jack Pine Legacy" tab above for more information on this breeding program- including a copy their dispersal catalogue.
John and Sue dispersed in 2002 but you can still find them at sales every now and then. They always help out Tony and Shane at their sales each year. Jack Pine Elan 98E, Jack Pine Andy 11Z, Jack Pine Cujo 96E, and Great Guns Mitzi 11X are just a few of their cattle that made an impact on the industry.
Tony's brother Shane resides in Sundre AB with his wife Shannon and their kids. They sell in both a fall female sale and spring bull sale. Check them out at WolfesFleckvieh.ca. Wolfe's Fleckvieh and Wolfe Farms have the pleasure of owning a few walking herdsires together because their breeding seasons differ.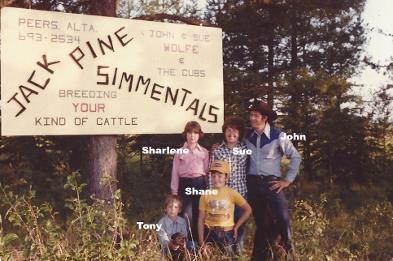 The Early Years
Tony became a member of the CSA in the 90's. Some of his initial cow purchases were from Garfield and Judy Buck of Gar's Haven, Henry Gunster of Great Guns Simmentals, and Gerd Bremmekamp of Swantewitt Simmentals. Gar and Judy Buck were John and Sue's neighbours and had purchased a package of cattle from Great Guns years earlier. The popular Panzer son KCN E208 was owned by Garfield. Additionally, there were purchases from his dad John including a Banjo son, an Andy son, and several cows. It wasn't until Tony moved his family north to Valleyview AB that the herd really started to grow.
Wolfe Farms Today
Wolfe Farms was established in 2002 and is now the home to over 300 Fleckvieh Simmental cows. The herd consists of about half Fullbloods and half Purebreds. The Purebreds are several generations of 100% Fleckvieh breeding and many go back to Great Guns genetics.
In 2006 Wolfe Farms had their first annual sale in Valleyview, and in 2010 they joined the Peace Country Simmental Bull Sale in Grande Prairie. Since 2013 their sales have been held on the farm south of Valleyview Alberta. Their Annual Fleckvieh Bull & Female sale is held each fall on the first Saturday of December.
Wolfe Farms is proud market high quality bulls to predominantly commercial cattlemen; with an emphasis on do-ability, structural correctness, and muscle definition, their bulls and females work long and hard for their buyers.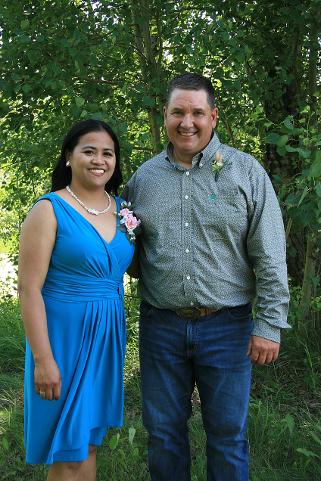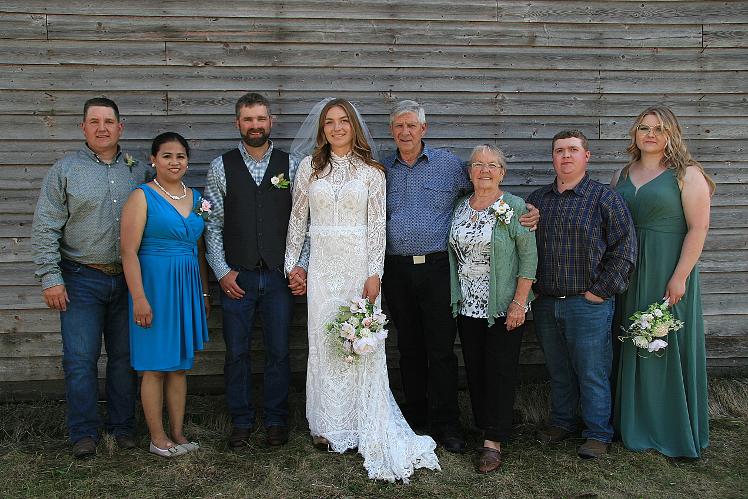 Tony, Annabelle, Kevin, Courtney, John, Sue, Riley, and Allison